Joachim Breitner's Homepage
I am currently on a road trip going from Philly going North along the Atlantic Coast into Canada, and aiming for Nova Scotia. When I passed from the US into Canada, I made had an unexpected emotional response to the highways there: I felt more at home!
And I believe it has to do with the pavement markings on US vs. Canadian freeways.
Consider this image, taken from the Manual on Uniform Traffic Control Devices of the United States, an official document describing (among other things) how the pavement of a freeway ought to be paved:

This is a typical exit ramp from the freeway. On ramps and cloverleaf ramps look similar. Note that the right-most lane goes somewhere else than the left and the middle lane, yet the lanes look completely identical. In particular, the lines between the lanes are shaped the same!
Now, for comparison, the corresponding image in a Canadian manual, namely the Manual of Standard Traffic Signs & Pavement Markings for British Columbia: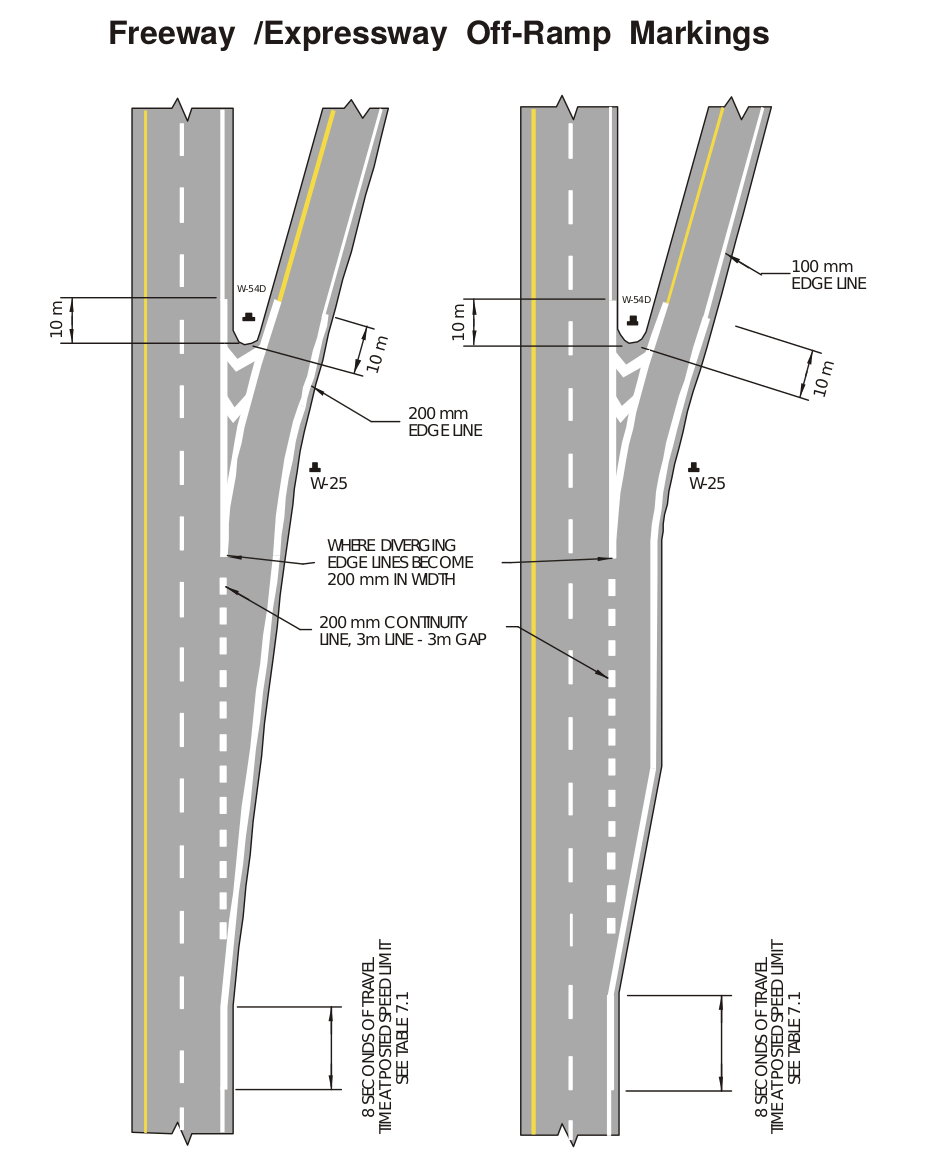 Here, there are different lines between the different lanes: normal lane lines left, but a so-called continuity line, with a distinctly different pattern, between the normal lanes and the exit lane. It's like in Germany!
With this is mind I understand one reason1 why driving in the US2 noticeably more stressful: There is just always anxiety whether you are accidentally in an exit lane!
Update (2018-07-30): AS Paul Johnson pointed out (see comment below), I was looking at an old version of the MUTCD. The current version, from 2009, has these lines: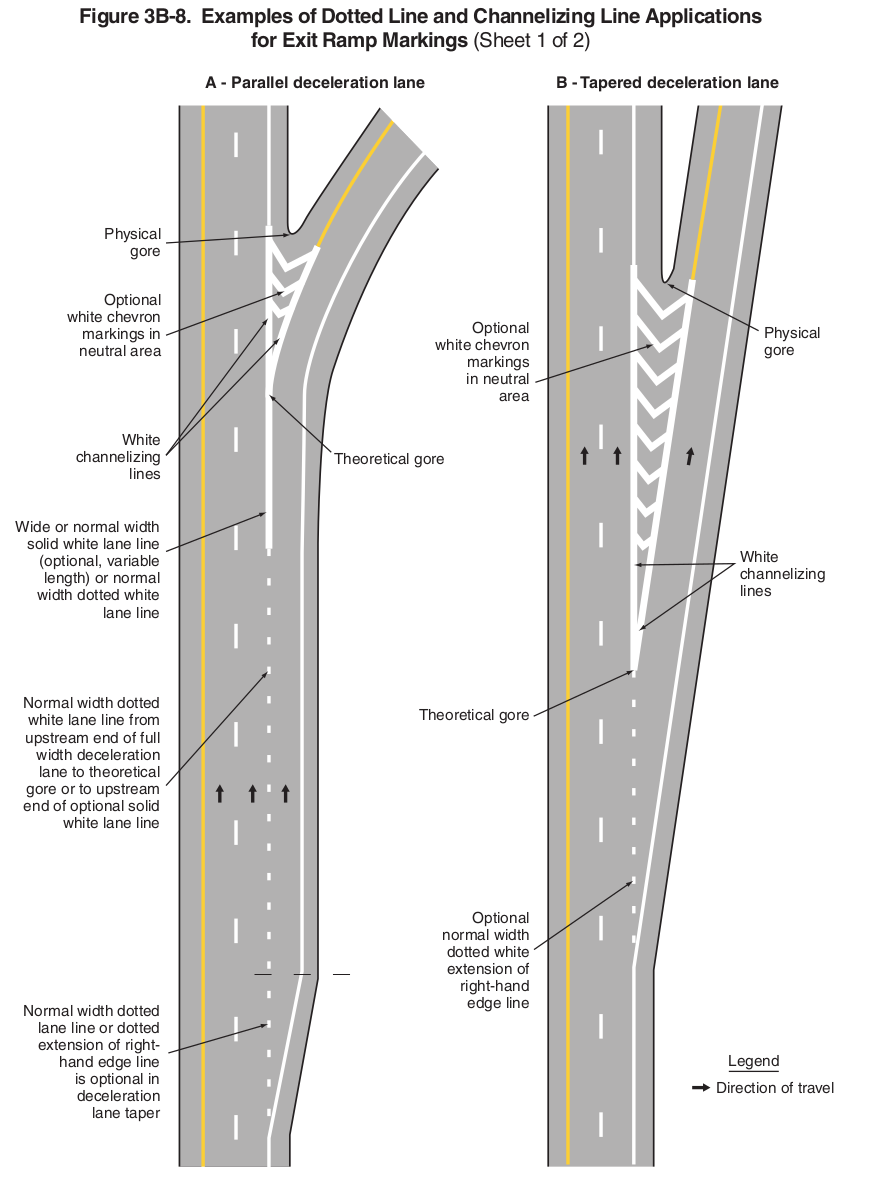 They have published a (very long) document describing the changes in the new version of the manual , and Section 306 describes the rationale:
[..] the FHWA adopts language to clarify that dotted lane lines, rather than broken lane lines, are to be used for non-continuing lanes, including acceleration lanes, deceleration lanes, and auxiliary lanes. [..] a number of States and other jurisdictions currently follow this practice, which is also the standard practice in Europe and most other developed countries. The FHWA believes that the existing use of a normal broken lane line for these non- continuing lanes does not adequately inform road users of the lack of lane continuity ahead and that the standardized use of dotted lane lines for non-continuing lanes as adopted in this final rule will better serve this important purpose in enhancing safety and uniformity.
So all is well! But it means that either Pennsylvania was slower than allowed in implementing these changes (the deadline was December 2016), or it was something else alltogether that made me feel more at home on the Canadian freeway.
---
I say "one reason", not "the reason", because there are many more – "Rechtsfahrgebot", no red-and-yellow-phase in the traffic light, Pennsylvanian road quality…↩︎

Supposedly, Pennsylvania is particularly bad with roads in general, but also with this particular problem, and California has exit lanes clearly separated. But, of course, because this is the US, not using the same patter as the others (Canada, Europe), but using spaced dots…↩︎
Comments